Halsbury's Laws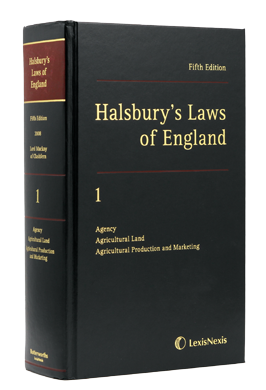 Introduction
Halsbury's Laws of England provides the only complete narrative statement of the law in England and Wales.
Neatly alphabetised and organised according to subject area, Halsbury's Laws makes searching for statutes, tables and supporting materials quick and easy. Convenient annual and monthly updating services ensure the most up-to-date statements and explanations of the law, giving practitioners complete confidence in the advice they provide.
Rich in heritage, Halsbury's Law of England has proved its worth year after year to cement its reputation as the one and only encyclopaedia of law.
Brief history
Over 100 years Halsbury's Laws has established itself as the authority on English law.
The first edition ran from 1907 under the editorship of Lord Halsbury, and took ten years to complete. Since then, new editions have been launched every 20 to 30 years. Traditionally, the role of Editor-in-Chief of Halsbury's Laws is held by a former Lord Chancellor, and the current incumbent is Lord Mackay of Clashfern.
Launched online in 1998, it has fast become an essential online resource and is available as part of numerous LexisLibrary research packages.
For more information about Lord Halsbury himself, read his mini biography here.
Extended history
In 1907 Stanley Shaw Bond, Managing Director of Butterworths, was responsible for launching the Encyclopaedia of Forms and Precedents, the Digest, Halsbury's Statutes and Halsbury's Laws of England.
Halsbury's Laws was the second of those works to be launched, in 1907, after Bond learned that a government committee had found the task of setting out a code of English law impossible. He approached Lord Halsbury, the then Lord Chancellor, to be Editor-in-Chief only to find he had gone on holiday to Nice. Naturally, he decided to follow him there.
"I accosted him in the foyer and in surprised tones he said 'Hello Bond, what are you doing here?' I replied, 'I've come for my answer, my Lord' 'But I'm on holiday,' Halsbury replied. 'I'm sorry, my Lord,' I said, 'but I must have a reply one way or the other.' 'Well Bond,' he said, 'I admire you for your cheek... and yes, I'll do it. Only, Bond, the labourer is worthy of his hire... eh?' 'Name your fee, my Lord,' I replied. He named it, and it was a stiff one. I pulled out my cheque book and wrote him a cheque for the lot. 'Done, my Lord,' I said."
(Source: Butterworths: History of a Publishing House by H Kay Jones)
Halsbury's Laws of England Centenary
On 14 November 2007 Halsbury's Laws of England celebrated its centenary with an evening of seminars. Led by Lord Mackay of Clashfern and Professor Richard Susskind OBE, the prestigious panel of experts looked at the evolution of legal information provisions.
Additionally, a commemorative volume of essays on a range of topics was commissioned, featuring contributions from such luminaries as Joshua Rozenberg, Baroness Helena Kennedy, Lord Lester of Herne Hill and many others.
Halsbury's Laws of England Fifth Edition
Now halfway through the publication of the fifth edition, the completely revised Halsbury's Laws of England is due for completion in 2014. With new arrangement and subject areas, it draws on authorities including Acts of the United Kingdom, Measures of the Welsh Assembly, UK case law and European law.
New titles for this edition include, Sports Law, Information Technology Law, Financial Services and Institutions, Judicial Review and Environmental Quality and Public Health.
Privacy & Security| Site Map | Terms & Conditions | Contact Us

Copyright © 2011 LexisNexis, a division of Reed Elsevier Inc. All rights reserved.
Reed Elsevier (UK) Ltd - Registered in England - Number 2746621 - Registered Office 1 - 3 Strand, London WC2N 5JR